Rome University of Fine Arts – RUFA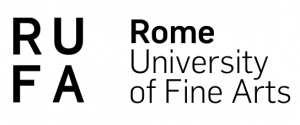 RUFA, Rome University of Fine Arts, is a multidisciplinary, international educational centre – legally recognized by the Ministry of University and Research (MUR) – offering authoritative, innovative courses in the field of Art, Design and Communication. RUFA works in collaboration with renowned professionals and prestigious enterprises, guaranteeing its students theoretical preparation par excellence in addition to constantly updated methodological-operational guidance whilst keeping a keen eye on the workplace and current market trends. Established in 1998 with the objective of fulfilling, within a single Academy, the aspirations of Italian and overseas students and those of its founder, Maestro Alfio Mongelli, RUFA offers Bachelor and Master of Arts degree programmes which respond in full to contemporary artistic and cultural contexts, providing an artistic training of the highest calibre and strong, concrete future employment prospects.
Up to date and stimulating training proposals.
RUFA offers a large set of training proposals which include some of the most exciting and high-demand areas of study. Guided and advised by the Heads of the Department for Visual Art and the Department for Design and Applied Arts /New Technologies for the Arts, students at RUFA can choose their future professional career from among nine different Bachelor of Arts degree programmes:
Painting and Visual Arts / Sculpture and Installations / Set Design / Graphic Design / Comics and Illustration / Design / Design for humans / Cinema / Photography.
And from nine Master of Arts degree programmes: :
Multimedia Arts and Design / Visual and Innovation Design / Computer Animation and Visual Effects / Film Arts / Set Design / Fine Arts: Painting, Sculpture, Printmaking
Studying art and design in Italy is a unique opportunity and the ambition of many students from all over the world. Thanks to its programs and international standing, RUFA is the perfect destination for foreign students who wish to make their dreams come true!
Over the years RUFA has implemented an internationalization process, offering its students Bachelor and Master of Arts programs in english, a Foundation Year, Erasmus exchanges, internship opportunities abroad and the support of dedicated offices. Classes are taught by an international teaching staff and many guests from all over the world are invited to participate in RUFA's events.
Moving abroad and getting to know different cultures is an enriching experience and can be the best one of your life, changing its course forever. It is a way to discover new points of view, make new friends but also to get to know yourself better and to challenge yourself.
Italy is the country that has the highest number of UNESCO world heritage sites in the world, famous for its amazing food, climate, art, design and friendly people.As for any other country, to be able to come and study in Italy you will need to submit various documents to the Responsible Authorities in your Country and in Italy.We know that bureaucracy can be difficult, and it is for this reason the we have created the "before you arrive" and "when you arrive" sections to support and guide you through these first challenges.